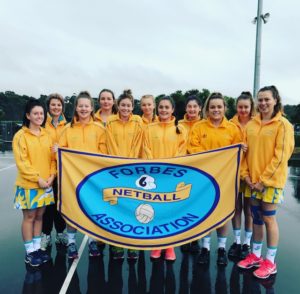 The Forbes Netball Association representative 17U team played in the State Championships in Sydney over the long weekend.
The team won three games, had one draw and played 19 over three days to end 17th overall in one of the hallmark events of the NNSW calendar.
"The girls played great and really came together when it counted," said coach Kristin Read. She said the team had been training hard starting at the end of last year. They played at four regional training carnivals in Orange, Dubbo, Cowra and in Forbes winning their division.
The Forbes Netball Association repre- sentative 17U team of 10 players are: Alyssa Godden (captain), Jessica Priest (vice captain), Sophie Cowan, Hannah Cudaj, Claire Maslin, Sarah O'Neil, Kate Hanley, Pypah Montgomery, Tanika Hill and Brooke Toole.
It was the 49th year of the NNSW State Championships with 69 associations from across NSW represented by 103 teams in six divisions.
Kristin thanked the parents, State Cham- pionships rep convenor – Melissa Cowan, manager – Kerrie Priest, primary carer – Sondra Godden, scorer – Coral O'Neil, bus driver – Gavin Montgomery, umpires – Jack Piercy and Leisa Kenny. Sponsors – Bunnings and MBR Clothing.