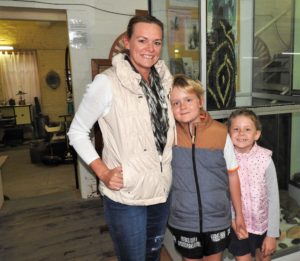 More than 70 people were keen to explore the treasures of the Historical Museum at its annual open day last Saturday.
"It was a very successful day," said Bruce Adams, President of the Forbes & District Historical Society. "We had a huge increase in people attending. They were very impressed with our exhibits and many said they would come again to spend more time looking at everything."
One of the newest additions to the mu- seum, a fully restored Ivel tractor, was one of the most popular exhibits on the day, especially when it was started up at 1pm and 3pm. "All the boys liked the tractor with about 40 people watching us start it up," said Bruce. He said the 114-year-old tractor, which is one of only seven left in the world and took about 700 volunteer hours to restore, worked perfectly when started up.
There was something for everyone to get excited about. Elaine Huckell and Anne Reade were thrilled looking through wedding photos of Forbes locals on display.
Michelle Mahlo said she had not been to the museum for years and savoured the lux- ury of taking her time without being hurried on by the kids.
The museum at 11 Cross Street is open from 2 to 4pm daily.