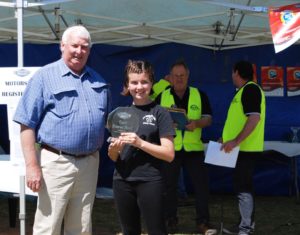 It was a gathering of shiny metal and roaring engines last Sunday at the 8th Forbes Ben Hall Motor Show.
Approximately 4,000 automobile fans fawned over the sea of more than 300 entered vehicles including bikes, cars, vintage machinery, trucks and tractors on display. The event took place at South Circle Drive and attracted 165 official entries for a category trophy.
President of the Forbes Motor Show Ian (Bart) Bartholomaeus said: "This year's show has exceeded all expectations. It's been an unbelievable day with great weather that reflects on the number of people that's come out today."
Entrants came from as far as Canberra, Melbourne and Sydney.
Forbes locals did not let out-of-town competitors take all the glory with Forbes Public School student Clare Little, winning the trophy in the Best Street Rod category with her junior dragster vehicle.
At just 12, Clare is ranked fifth and top girl junior dragster in NSW (8 to 16 years old). She started racing when she was only eight years old. These days racing at the Sydney Dragway, with a special licence and all the necessary safety equipment, Clare can get up to speeds of over 120km/h.
Other Forbes locals doing well at the show were Willy Webb with his Custom Pro Street Harley winning the award for Best Custom Bike and Graeme Coady's Kawasaki Z1 900 Quacka winning the People's Choice Bike award. J&K Glennan Transport, M&A Bray Transport and R McClintock & Co were trophy winners in the truck categories.
By Gizell van Wyk