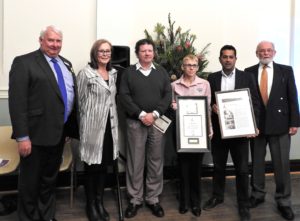 The final event of Forbes Heritage 2017 last Wednesday was a celebration of the rich and diverse history of the town with the Forbes Medical Centre receiving the Forbes Medal.
A very surprised and delighted Dr Neal Somes accepted the medal for the Centre's, 'Discovering our Doctors' project, which he said had been "very much a team effort". "History is very important," he said. "The project is for the patients as they make the practice. It will also help our new doctors to reflect on how their forbears dedicated their careers to assisting the Forbes community."
Other nominees for the Forbes Medal were the Forbes and District Historical Society, Forbes Railway Arts and Information Centre and Two Tone Films.
The Heritage Volunteer Award went to Don Rath, who has been a volunteer at the Forbes Museum since 1973. The other two nomi- nees were Yvonne Collits and Pamela Thomson. All three nominees have been involved in various community organisations willingly volunteering their time, energy and expertise with a commitment to heritage conservation.Cr Phyllis Miller said it warmed her heart to see so many people attending the ceremony. She con- gratulated all the students who entered the Art Awards. Sampa Bhakta won the Art Acquisition Award.
By Dianne Collie