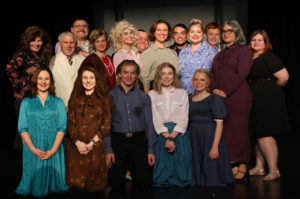 Three Forbes residents form part of the cast and band of the latest Parkes M & D production, 9 to 5 Musical.
Matt Prow plays the junior accountant, Joe. He falls in love with Violet, one of the three leading ladies played by Angie Drooger. Krystle-Lee McMurray, who is in her very first musical, plays a nurse and is also in the ensemble. Helen Hurley plays in the band.
Featuring music and lyrics by Dolly Parton, 9 to 5 is set in the late 1970s and is a hilarious story of friendship and revenge that is thought-provoking, outrageous and even a little romantic.
"It is a relatable story and still relevant today," said Angie Drooger. The co-stars are Brittani Carol as Judy and Erin O'Leary as Duralee. They work for Franklin Hart, played by Greg Ballantyne, who is a sexist, egotistical, lying, hypocritical bigot.
"Some of the scenes I felt right at home as it was so similar to my real life work situation," said Angie. "But we do get up to some crazy antics like kidnapping our boss, which is probably very unusual."
According to Angie this high-energy show with lots of fun is ideal for all ages. "My three-year-old son watched the whole show." It is rated PG.
The cast of 19, with mostly females, is a good mix of adults and students. The cast includes some new faces while the lead roles are all played by local actors cast in previous shows.
"The audience will not only relate to the story, but there are lots of good songs by Dolly Parton, including the hit theme song," said Angie.
The musical will run at the Little Theatre in Parkes from tonight until 28th October. Tickets are available online at www.parkesmandd.com.au.
By Maggi Barnard