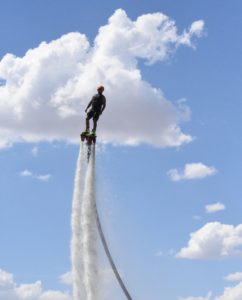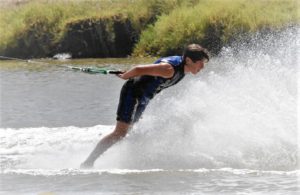 The third NSW Barefoot Championship held at the Forbes Aquatic Centre last weekend was a fabulous success with 43 competitors.
Locals Jono Collits, Tas Spackman, Tom Morrison, Joff King, Tim Burke, Angus King and Jim Cronin wowed their family and friends with their skill. "It is so great bare- footing to a home crowd," said Tom. "Everyone can watch all your tricks." Forbes has a unique advantage over other venues as all spectators can see the whole event.
The locals did not only show off their skill, but managed to win rankings too. Tom was ranked second in the junior boys competition, Jono ranked second in the men's overall (Second division) while Jim Cronin was ranked third and Tas tenth in the men's overall (third division) competition.
During the competition two to three adjudicators scored each competitor from the back of the boat. The competition included slalom, tricks and jump events. The slalom events saw competitors crossing the wake of the boat as many times as possible. During the trick events, competitors hear a siren when on their two feet when they had to perform technique tricks for 15 seconds. The crowd was amazed at many of the tricks including skiing backwards, turns and butt slides. Jumps where also undertaken which is not an easy feat without skis.
To add to the overall festive atmosphere, campervans were set up and individual marquees joined together all along the shore of the Forbes Aquatic Centre to allow spectators to socialise and see the com- petitors in action at the same time. Peter O'Neil and the Mulwala Waterski Club Trick Skiers amazed the crowd on the fly board.
By Dianne Collie