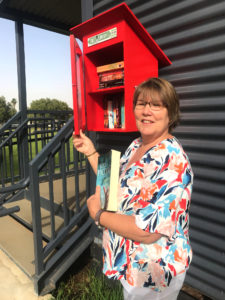 In a push to encourage more Forbes residents to enjoy reading, Forbes Shire Council has installed an amazing bright red "Street Library" in Nelson Park. Local resident, Kathy Prow initiated the project with Council after seeing Street Libraries in other locations around NSW.
Kathy explained that the concept of Street Libraries is that they are a beautiful home for books, planted in a public place.
"People can simply reach in and take what interests them and when they are done, they can return them to the Street Library. They can also swap the book they take with one of their own, or even just donate a book or two for others to enjoy."
General Manager, Steve Loane said that the installation of the first Street Library is part of Council's ongoing commitment to supporting community initiatives.
"We congratulate Kathy on her idea. Our support of this project is in line with great events such as Reading Down Town Day, that really foster an ethic of learning in young and old alike. Reading is so important for children and modelling an enjoyment of reading by adults can only encourage young people to do the same. This street library is the first in town and there is more planned – stay tuned!"