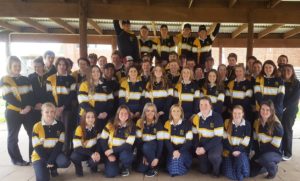 With their schooling year complete, Year 12 students at Forbes High School are now able to celebrate their results that they have achieved in their HSC, and can all look forward to a positive future ahead.
The HSC class of 2017 at Forbes High School have reached just one of the many milestones in their life by attaining the HSC and Forbes High School are extremely proud of all of them.
Relieving Principal Jason Nottingham said: "It is lovely to see our students succeed and achieve their HSC. Our students have worked very hard, not just over the last twelve months but throughout their entire schooling journey. Being a part of that journey with them and seeing them successfully complete their secondary schooling has been very rewarding. This only comes through strong partnerships between the school, the student and home."
Students have also achieved individual success in a variety of subjects, 5 students achieved band 6 in a number of courses and 13 students achieved band 5, with some of the students at Forbes High School gaining early entry into university to continue their studies in their chosen career path.
A stand out includes a score of 99 per cent in Mathematics and a first in the State in Metal and Engineering. The school is proud to have one student in the NSW Merit List of All Rounders and another 5 in the Distinguished Achievers List.
"Our year 12 students have demonstrated a strong commitment to their learning in the past twelve months, and all of the staff at Forbes High School are very proud of what they have achieved," said Year 12 Advisor Damian Byrne.
The Forbes High School community wishes all of our Year 12 students the very best in their future endeavours and hope they continue on a lifelong path of learning.