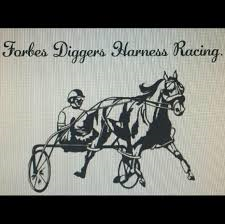 The Forbes Diggers Harness Racing Club is getting set for another big year of racing!
First up, will be the Anzac Day Race Meeting held on Thursday, 25th April. This will feature the Forbes RSL Subbranch Diggers Cup as well as the Les Findley Memorial Pace, the Clarrie and Val Robb Memorial Pace, the Pud Woods Memorial Pace, the Neville Pellow Memorial Pace and the Colin Ware Memorial.
On the day, Forbes Harness will hold an Anzac Day Ceremony on course to honour those that served or died in the war. It is a great day out for the family and perfect for kids with a free jumping castle and oncourse facilities available.
Forbes Harness will also host the Tab Carnival of Cups on Sunday, 5th May. This will be done with the Forbes Services Memorial Club, who continually supports the Forbes Diggers Harness Racing Club, on board as major sponsors again this year.
The Forbes Services Memorial Club Final will be the feature race on the day, with the heats to be held on Anzac Day. Forbes Harness are extremely grateful for their sponsors and the support they receive to host both of these race meetings each year.