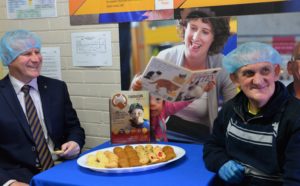 Farmers around Forbes will benefit from a $70,000 boost, with the Nationals' Member for Riverina Michael McCormack securing a grant through round one of the Building Better Regions Fund – Community Investments Stream.
Forbes Shire Council's application to develop an agricultural strategic plan for the region was one of the 147 successful applicants among a total of 392. The total value of projects approved was $6.9 million.
The money will go towards developing an agricultural strategic plan for the Forbes Shire, focusing on livestock production, dairy, hemp, forestry, horticulture, biofuel, aquaculture, agri-tourism, cropping, and the Central West Livestock Exchange.
The study is set to be undertaken during the 2017/18 financial year and will tackle a number of important issues and challenges in the rural industry.
Mr McCormack said the Building Better Regions Fund (BBRF) focused on creating jobs, driving economic growth and building stronger regional communities into the future.
"It is a pleasure to be able to deliver this money to organisations so that they can further enhance our communities and make them even better places to live and work," Mr McCormack said. "The Liberals and Nationals in Government will continue to work hard to provide regional and rural Australians the economic tools to boost their vibrant communities."
Forbes Shire Mayor Graeme Miller thanked the Federal Government for supporting regional Australia. "These grants are so important to rural communities, especially of this size," Councillor Miller said. "This money will go towards strengthening the rural industry in the Forbes region."
The announcement comes on the back of a $210,000 Building Better Regions Fund grant last month for the expansion of Forbes small business Aussie Biscuits. Applicants that were unsuccessful may consider applying for funding under Round Two, which is likely to open towards the end of the year.