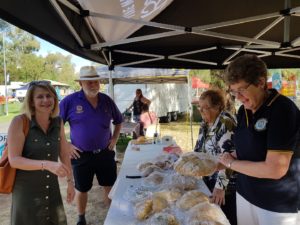 The ladies from the Forbes Country Women's Association (CWA) have started 2018 with a bang. They have been involved in both the Australia Day competition and the Queen's Baton Relay.
Their annual damper competition at the Australia Day celebrations was another successful day with nearly 30 dampers being entered. The winner of the overall section was an overseas visitor to Forbes, Rachel Ramsden. Rachel borrowed a CWA cook book and cooked her first damper and she won first prize. Graham Thornton was the second prize winner.
The annual CWA/Forbes Lions Challenge was won this year by Peter Bright from the Lions Club.
Many thanks go to the Forbes Shire for supplying the marquee table and chairs.
Next, the Queen's Baton Relay and a request from the Shire to poach 200 peaches.
Thanks to the CWA ladies, the task was accomplished on time and they were ready for the Shire to collect.
CWA meetings are held on the first Friday of each month at 1:30pm at the CWA Hall in Lachlan Street. They would love new members to join and welcome anyone to pop in at any meeting day.
The next adventure is a raffle, so you will see the CWA ladies down the street selling tickets. The funds raised from this raffle will go towards a local worthy cause yet to be decided.