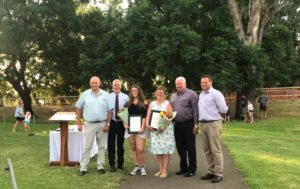 Residents of Forbes enjoyed the many Australia Day activities offered around town on Friday and welcomed the town's inspiring ambassador James Pittar.
The day's celebrations featured an enormous three event program, beginning with the free Rotary Community Breakfast at Apex Park, followed by the Diggers Family Swim at the Forbes Olympic Pool before the main celebration, 'Australia Day Party in the Park', which was held at Lions Park.
Australia Day Ambassador, James Pittar addressed the hundreds of people attending the celebrations.
James was diagnosed with a degenerative disease Retinitis Pigmentosa at the age of 16, by 21 he was considered legally blind and completely blind in his 30's. As a direct result of his declining vision, James ramped up his sporting efforts, specifically in swimming and rowing.
During the 1990's, James represented Australia in both these sports as a disabled athlete. He has a long and distinguished history of swimming achievements and actively supports and raises funds for the Fred Hollows Foundation; targeted at preventing blindness and improving indigenous health. He is also an ambassador for the Rainbow Club: a not for profit organisation which offers swimming lessons for children with disabilities.
The 'Australia Day Party in the Park' featured spectacular fireworks, live entertainment from Gabe Middleton and Cameron Sharpe, pedal boats, amusement rides, face painting, the traditional CWA Damper Cooking Competition and a range of exciting food.
There were also displays by community groups including the SES, Fire and Rescue NSW and Forbes Dragon Boat Club.
As part of the celebrations, Forbes Shire Council rewarded and acknowledged community members who have achieved excellence or made a significant contribution to the community. Kelsey Muller was announced 2018 Young Citizen of the Year and Sue-anne Nixon was named 2018 Citizen of the Year.