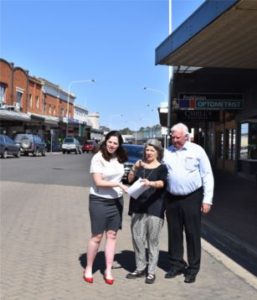 Consultants Group GSA and AP Sheere were set to start work on the Forbes CBD master plan this week.
The consultants were selected by Forbes Shire Council's CBD Working Group after 13 responses to the request for quotation were received.
Group GSA and AP Sheere have 32 years of project management experience, specialist expertise and experience in CBD master planning which includes Riverstone Town Centre, Georges River Precinct, Ramsgate Village Centre, Strathfield Square and Ramsgate Beach Town Centre.
The Forbes CBD master plan is expected to take about six months to complete and will include community consultation on 1st and 2nd November.
The community consultation will include workshops and a community walk through the CBD.
Forbes Mayor Graeme Miller said the CBD master plan would provide a long-term vision of how the town centre will look and function in the future.
"We are pleased to have consultants Group GSA and AP Sheere to work on the plan," Graeme said.
"The plan will have a 10 to 15 year timeframe and will include economic and tourism opportunities and an urban design and revitalisation strategy including landscape improvements."
Forbes Business Chamber Vice President Marg Duggan said the Chamber was extremely pleased the Forbes CBD master plan was being created.
"The beautification of the CBD and having a long term plan in place will be beneficial for Forbes businesses and the community," Marg said.
"The Forbes Business Chamber is really enthusiastic to be one of the major stakeholders involved in the process of the master plan."