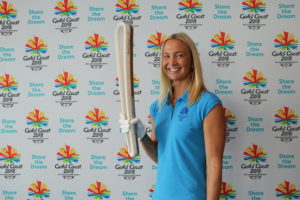 It's official! Twelve locals from Forbes will be part of 3,800 batonbearers who will carry the Queen's Baton during the 100-day countdown to the Gold Coast 2018 Commonwealth Games next year.
The 12 locals are a good representation of the community. They are Wendy Green, Taylah Hemming, Denise Jelbart, Robyn Kenny, Robin Lyell, Ethan Markwort, Peter Moore, Christopher Roylance, Yvonne Shaw, Lester Sheather (living in Young), James Smart (living in Seaforth) and Rob Willis.
Forbes is one of eight overnight stops in NSW, and the baton will reach the town on Monday, 29th January 2018.
The batonbearers will take more than a million steps collectively across Australia to bring it to its final destination at the Opening Ceremony on 4th April 2018. Each batonbearer will carry the baton for approximately 200 metres.
The baton starts its Australian journey on 25th December. It will travel through every state and territory covering 40,000km.
Since its launch from Buckingham Palace on 13th March, the baton has gone across Africa, the Caribbean, the Americas and Europe. It is in Malaysia currently and will visit the remaining 15 Commonwealth nations in Asia and Oceania before arriving in Australia.