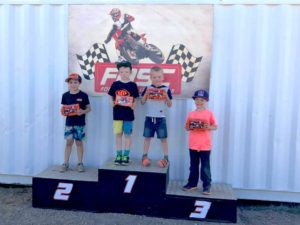 The Forbes Auto Sports Club (FASC) made a come back of note last weekend following a huge setback in April last year.
The club was broken into and cleaned out, but a year of hard work and generous donations from the community brought them back to operating.
The club's re-opener was held over two days last weekend with a double header of flat track racing that might become an annual event.
Riders came all the way from Brisbane and Melbourne, Broken Hill and Cobar, as well as a large contingent made the trek from Kurri Kurri club on the Central Coast.
Peter Baker came all the way from Harrington Point on the Mid North Coast to com- mentate for the weekend that included a din- ner and entertainment on Saturday night.
Many people commented on how well the meet was run and how good the track was presented.
The committee would like to thank everyone who has helped us get back up and running after the incident last year.
Thank you to Central West Agricentre for your kind donation of a new rainwater tank and pump, Central West Drag Association for your most generous donation, and everyone else for your donations.
Lots of local businesses jumped on board to help out with sponsorships, a vital part of a club meeting. Thank you to all of you.
If you would like to get involved, contact the club on their Facebook page or website. The next meeting will be held on 21st May for motorcross, with another one on 17th July.
There will be a kickstart licencing day for children to get a licence or those who need to be endorsed on a bike on 2nd July, presented by Aaron Rankmore of Dubbo (see his website for details.)
By Hayley Hope-Hodgetts