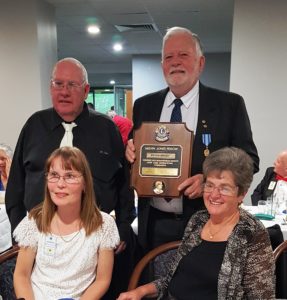 Local Lions Club member and Vice-District Governor for the area, Peter Bright was awarded a Melvin Jones Fellow award at the District Changeover function held in Bathurst recently.
It is the highest award a Lion can achieve and is awarded for dedicated service to the Lions Club and the community.
Peter was stunned to receive the award and during his acceptance speech noted that it really belonged to the Forbes and District Lions Club, to Elaine, his long suffering wife and perhaps in there somewhere a little bit belonged to him.
Peter spoke about his time as a Lion and of the rewarding experience in meeting a young mother a few months after the Lions had a hearing loop installed in a classroom at a local primary school.
She had just come from the school and had seen her hearing impaired son participate in the classroom for the first time. This was a truly rewarding experience for him.
Peter is looking forward to next year when he will assume the role of Governor of District 201 N4, which covers about half of NSW.
The Forbes and District Lions Club is well represented on the District Cabinet this year with Gayle Williams as District Environment Chairperson and Neil Lambert as District Peace Poster Contest Chairperson.