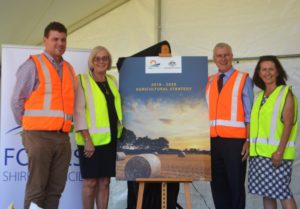 Farmers in the Forbes community will benefit from the launch of an Agricultural Strategy made possible through $70,000 funding received in round one of the Building Better Regions Fund – Community Investments Stream.
Forbes Shire Council is the first Local Government in NSW to launch an agricultural strategy, which was unveiled at the Central West Livestock Exchange on Monday.
In 2017 Forbes Shire Council identified the need for a strategy to manage how the shire moves forward in the Agricultural sector.
The Forbes Shire Council Local Government Area is one of the most productive agricultural areas in NSW, with the Agriculture, Forestry and Fishing sector our largest industry in terms of output, valued at $183 million and provides approximately 18 percent of the local employment opportunities.
Forbes Shire Council engaged the services of professional service company GHD to work with local producers and key stakeholders in the rural industry to develop a long-term strategy to grow agriculture in the region.
Attending the launch was Riverina MP, Deputy Prime Minister and Minister for Infrastructure, Transport and Regional Development, Michael McCormack whom secured the funding through round one of the Building Better Regions Fund – Community Investments Stream. He commended the milestone event.
"Our farmers are the best environmentalists in the world, make no mistake about it," said Michael. "Today's launch of the Forbes Agricultural Strategy is an important step to tackle a number of important opportunities and challenges which face the rural community.
I commend Forbes Council for taking the initiative to organise this important guideline which was made possible through this Federal funding."
The Agriculture Strategy covers many sectors in the industry, including all livestock, dairy, hemp, forestry, horticulture and agritourism.
"It also focuses on other challenges," said Mayor of Forbes Shire Council, Phyllis Miller.
"The Strategy is multi-faceted in its approach; considering land-use planning, land capability and water availability."
"Supply chain impediments need to be removed to increase productivity. Transport infrastructures including commodity routes are among the key areas we need to look at in the near future," said Phyllis.
The Strategy also addresses the fact that Inland Rail will open up access to other ports for the Agriculture industry in the Forbes District with direct access to Brisbane and Melbourne via rail.
"The Central West Livestock Exchange has enjoyed ongoing capital improvements recently. The $3.9 million extension of the cattle yards, B-Double and road train parking areas make the facility one of the largest modern selling centres in NSW," said Phyllis.
"Continued focus on improving efficiency and profitability will ensure maximum returns in the future. This is all part of the strategy."