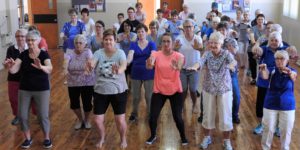 Invigorating! Socially interactive! Illuminating! Tai Chi participants used these words to describe their first class for the year on Tuesday.
"It's all about you and your health. We impart the facts and make it fun," said in- structor Cheryl Shirvington.
More than 30 people of all ages turned up for the first class. First participants were introduced to individual movements, and later the movements were choreographed together into forms.
"Tai Chi brings your focus to the here and now. It is important to breathe deeply and allow your movements to flow," said Cheryl.
Giggles erupted around the room at times. "You know when you watch a Tai Chi master and they flow? Well, it is just a trick and we are here to teach you that trick!' laughed Cheryl.
Instructor Sandra Nicholson said she had been practicing Tai Chi for over 10 years, "and I love it as there is never a point where you think there is nothing else to learn or perfect."
"It was really enjoyable and so great to see such a wide range of people here to- day," said Lynette Doyle. Colleen Cowell found it relaxing and enjoyed the com- pany.
As people are living for longer, arthritis and diabetes unfortunately affect more of us. Studies have shown Tai Chi can deliv- er health benefits to everyone regardless of age or level of fitness.
Loose, comfortable clothing and flat shoes is all you need for the next Tuesday class at 10am at the Uniting Church Hall. Thanks to Council support, the classes are offered for free.
'Whoever practices Tai Chi regularly will in time gain the suppleness of a child, the strength of a lion, and the peace of mind of a sage.' Old Chinese Saying
By Dianne Collie