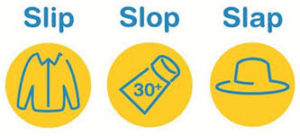 15 Minutes Is All It Takes
On a summer's day in Australia, sunburn can occur in as little as 15 minutes. All types of sunburn, whether serious or mild, can cause permanent and irreversible skin damage. This could lay the groundwork for skin cancers to develop. Skin cancer rates in Australia are among the highest in the world. Between 95-99% of skin cancers are caused by exposure to the sun. Men are more likely to get sunburnt than women, because they spend more time outside during peak UV times and are less likely to use sun protection.
Skin cells in the top layer of skin produce a pigment called melanin, which gives skin its natural colour. When skin is exposed to UV radiation, more melanin is produced, causing the skin to darken and tan. A tan is a sign that the skin has been damaged from UV radiation. It is important to remember that tanning without burning can still cause skin damage, premature skin ageing and skin cancer. UV radiation can cause irreparable damage to the genes in the skin's cells. Each time you expose your skin to UV radiation from the sun or from a
solarium, you increase your risk of developing skin cancer.
To prevent sunburn, use a broad spectrum sunscreen such as Suntivity SPF 50+ and reapply every two hours, particularly after swimming. Use protective clothes, hats and eyewear to limit exposure. Flannery's Pharmacy is hosting a sun clinic on Monday, 23rd January 2017 from
10am to 3pm. The visiting clinic nurse will assess your personal risk factors, assess your current level of sun damage and give you personalised and practical advice. Contact 6852 1111 for an appointment.