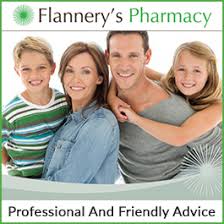 How To Prevent Falls
It is estimated that at least 30% of people in the community aged 65 years and over fall one or more times a year. Around 10% of those falls result in a fracture so maintaining and improving your health is vital as you get older. According to the Pharmacists at Flannery's
Pharmacy it is very important to exercise to improve balance, strength and flexibility. "Home or group exercise programs are a good way to stay active as well as social," said Flannery's Pharmacy
Registered Nurse, Rachel Hayes. "It is also very important to wear shoes that are comfortable and that fit well," said Rachel. Pharmacist, Tracey Edwards advises that it's important for people to know about any side-effects from medications that could cause dizziness or drowsiness. "If you are on a number of medications it's a good idea to sit down with your pharmacist for a MedsCheck which is a free service," said Tracey.
Other ways to prevent falls is to use nonslip bath mats, install hand rails, keep all areas free from clutter and power cords and ensure that there is adequate lighting in the home. "If you are experiencing balance problems, Flannery's Pharmacy has a wide range of home health care aids that can help you," said Rachel. The range includes walkers, walking sticks, over toilet aids, pedal exercisers, easy reachers and many more aids.
During September, Flannery's Pharmacy is hosting free health checks, which include blood pressure and blood glucose monitoring as well as free MedsChecks. Want to know more? Call in at Flannery's Pharmacy or give them a call on 6852 1111.