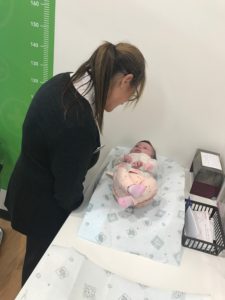 Parent's Room
Flannery's Pharmacy is now proud to offer a dedicated Parent's Room to the Forbes Community. The parent's room was included in the design for the newly refurbished pharmacy following the identification of a need for such a service in the central shopping area that provides a private area for feeding and changing as well as a toddler play area.
Given that we live in a rural community and a large number of our customers travel from properties or smaller communities outside of Forbes, we felt this was an important service we could offer our customers. As well as offering parents a private room for feeding and nappy change, the room also boasts baby weigh scales and length measure with these measurements able to be recorded at the pharmacy as part of the pharmacy guildcare program, and compiled into an easy to read printout on request.
We would love to invite all new and expectant parents to call into the pharmacy to collect a free bounty bag which contains samples and lots of great information. In addition to our friendly retail staff, Flannery's Pharmacy has experienced Pharmacists and a Registered Nurse
available to answer any of your questions or concerns regarding baby and children's health.
Flannery's Pharmacy has been serving the Forbes community for nearly 60 years. Our aim is to provide excellent customer service, professional support and advice to our community through an enthusiastic, caring and knowledgeable team.
Come and see us on Rankin Street!