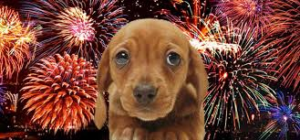 With it being the June long weekend, residents are reminded that this can be a trying time for dogs who may have an aversion to fireworks.
Director of Planning and Growth with Forbes Shire Council, Paul Bennett said that though it can be stressful for some pets there are a number of things that you can do as an owner to minimise the impact.
"Number one action to take would be to ensure that your pet is registered and the details are up to date. You can do this at council and the process is quick and easy and will help to identify your dog quickly if he or she escapes," said Paul.
"Keeping an eye on them is also important but avoid fussing over your pet too much and try to engage them in normal inside activities."
"Your local vet may also be able to recommend some new treatment options for managing noise phobias."
For more information, contact council's Environment Services and Planning department on (02) 6850 2344 or your local veterinarian.