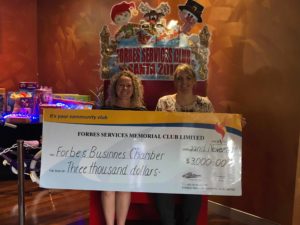 This year's Find It In Forbes Promotion and Carnival is shaping up to be one of the best. Forbes Shire Council is the AMAZING sponsor and Forbes Services Memorial Club is the Gold Sponsor this year. In addition Carpet Court is the silver sponsor for the second year. The Bronze sponsor category was introduced this year and has Central West Diesel, Little Extras and Bernardi's.
The Christmas Carnival committee continues to work hard with a new carnival layout and the introduction of new stalls into the market scene. "This year's mechanical entertainment includes the Karaitiana's giant jumping castle and tea-cups ride. Hector the mechanical bucking bull will be travelling from Woodstock for the event," said Chairperson Marg Duggan.
There is a lot more for kids to do such as street art, giant game activities, a sandpit and water-play area and an activity tent.
For the big kids, there are lots of exciting stalls offering another shopping experience alongside the Forbes businesses. Enjoy wandering Rankin and Templar Streets and start or finish your Christmas shopping.
The committee are excited to have some of the Forbes cafe's and food businesses open for the event. This year's Christmas Carnival will see the introduction of Greek food, a smoking BBQ, popcorn by the Forbes Youth Group, slushies, cheesecake, coffee and a good old Aussie BBQ.
Participating businesses in Forbes have all received posters and the magic shopping tickets. The promotion began on the 19th November and will continue until the 24th December. "A timber Christmas tree identifies each participating business… where there is a tree there are dockets! Make sure you ask for your shopping tickets if you are not offered them," added Marg.
The draws for the whole Christmas promotion are 10 x $500; 5 x $1,000; 1 x $3,000; 1 x $2,000 and 1 x $5,000 giving a total funding pool of $20,000. "There will be 10 x $500 draws on Friday, 14th December from 6:30pm onwards," said Marg.
Please remember to support the following businesses during this busy period and use any of the major sponsors and participating businesses to redeem any of your lucky draws:
Forbes Shire Council, Forbes Services Memorial Club, Terry Bros. Carpet Court, Bernardi's, Central West Diesel, Little Extras, Agriwest, Allure on Main, Betta Home Living, Blush Organics, Bowns SportsPower, Brons Hair Design, C & D Floor Coverings, Cahills Footwear, ChapterTwo, County Bakehouse, Flannery's Pharmacy, Forbes Family Dentist, Forbes Small Engines, Turners Furniture One, Gottaluvit, Gunns Menswear, Helloworld, HozPotz, Jullianna Kneebone Solicitors, Ladybird, Life Pharmacy, Loomzys FishNFix, Made Of Fridays, News On Rankin, Painted Daisies, Phillip Wells Optometrist, Robbs Jewellers, The Pantry Cafe and Catering, Undercover Sleepwear, Vandenberg Hotel, Walkers AgNVet, Blue Sky Outdoors, Forbes Inn, Roylances Auto One and Eye Wear Specs.
Supporters include: Forbes Livestock, Forbes Toyota, Hazel Field Accountants, Hughes and Co, Kevin Miller Whitty Lennon & Co, McCarron Cullinane and Chudleigh, Midpro, Midwest Pest, WA Knights and BWR Accountants.