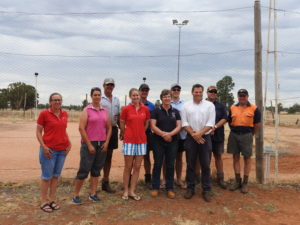 Community groups in the Forbes Shire received funding of more than $80,000 and a visit from Phillip Donato, MP for Orange on Tuesday.
Accompanied by Brett Cooke, Senior Electorate Officer, Phil visited six groups to announce the Community Building Partnership grants, facilitated by the NSW Premier and Cabinet. First stop was the Forbes Handicraft Centre Inc. "$3,000 means a lot to us," said President, Barbara Parslow. "We can upgrade our refrigerator, which was purchased second hand more than 11 years ago, to ensure the freshness of our sweet treats for years to come."
Aileen Allen of the Forbes Wiradjuri Dreaming Centre was almost at a loss for words: "We are over the moon as we will be able to build the Arts and Cultural Centre with $12,000, and commission bronze sculptures to help the Aboriginal Story with additional funding from the Arts Centre." She said there was also the possibility of employing people to tell the Wiradjuri story.
At the Forbes Shire Pool, the Forbes Amateur Swimming Club founded in 1938, and with a current membership of 126, received $6,000. Janelle McManus, Treas- urer, said they had also received funding from the Stronger Community Program (SCP) and the Public Reserves Manage- ment Fund Program (PRMFP). "Now we can level and rebuild the canteen so it is WHS compliant, easy to set up, and dis- play electronically the times and places at local competitions," said President, Sandy Phillips.
Receiving the biggest chunk was the Forbes Men's Shed with $40,000. Meeting them at their current shed at the Forbes Showground, their home since 2007, President, Norm Haley said the money meant a secure future and a move to Union Street – a more central location. "We currently have 47 members aged between 14 to 95 years. We are looking forward to tripling the space of our Men's Shed, increasing our opening hours, and the number of members."
What a wonderful present for the County Women's Association in Lachlan Street, that turned 90 in October last year. "We are looking forward to be able to dance on solid ground again," said President, Elaine Bright. "The grant of $6,000 will enable us to have the floor resurfaced so that our
members can ball room dance the night away again."
Last but not least was the turn of Wirrinya Progress and Sports Association, receiving funding of $15,948. "The aim is to have the retaining wall between the two tennis courts constructed and new fences erected before the end of the financial year," said Grant Officer, Monica Langfield. "This cen- tre is a focal point which keeps our commu- nity together," added the President, Trevor Toole.
By Dianne Collie