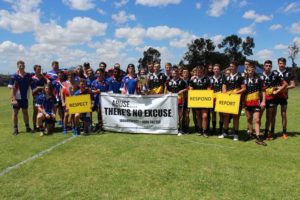 Forbes High School (FHS) was successful in winning the CMOC-Northparkes Mine Domestic Violence Cup against Parkes High School 32-18 recently. The community came out in numbers on the day in full support of the event and to cheer the teams on.
Both sides displayed great sportsmanship and represented their schools with pride. The teams played with immense responsibility on the day and were extremely respectful towards the female referee, Shanika Harpur who did a marvellous job of refereeing the match.
Kristian Markwort was awarded with the Cole Medal and Michael Murphy was the recipient of the Oliver Carlisle Memorial Medal.
The event also showcased the talents of the FHS Girri Girri students who performed on the day with a welcome and cleansing ceremony.
Captain of the day, Charlie Staines accepted the Cup from CMOC-Northparkes Mine on behalf of Forbes High School.
The event looks set to be maintained on the school calendar for 2018.