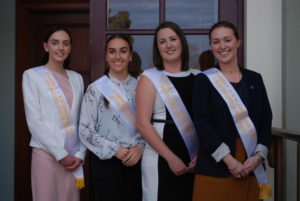 After careful consideration, the Forbes Showgirl 2017 winner will finally be announced and receive her prizes at tonight's opening of the Forbes Show at 7pm. The winner to be sashed will move on to the zone judging held next February in Blayney.
The Showgirl finalists had the opportunity to impress three judges during a 20 to 25 minute interview last Saturday followed by a high tea with invited attendees at the Forbes Town Hall. During this the four finalists were also given an impromptu question proving each one to be deserving of the title.
Forbes Showgirl coordinator, Susan Earl said: "Our four entrants all have different stories and backgrounds. It's a hard job for the judges to choose our Showgirl for this year. The whole competition is looking at someone to represent Forbes as our ambassador and to let other towns know about the wonderful things that Forbes has to offer."
Attributes that are looked for in a potential Showgirl winner, aged 18 to 24 years, is confidence, interest in the rural scene and community. Key qualities also include someone that is well groomed and well presented.
Susan passionately believes that the competition is a great way for girls to gain confidence and get experience in being interviewed. It is also looked upon as an asset on the girl's resume.
Amelia Sweeney, Showgirl for 2016 said: "I was really pleased with all the entries we received this year. It's amazing we got these girls who are happy to represent Forbes and the Forbes Show society. All the girls had something different to offer. They are all really proud of who they are in their local community and they are all really excited to be involved."
One of the three judges, Tom Dwyer commented on the high standard of this year's finalists.
By Gizell van Wyk