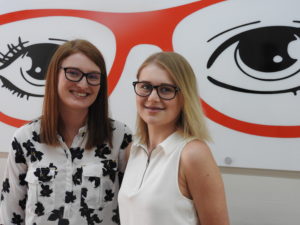 Eyewear Specs has welcomed two new staff members to their team. Lauren Hutcherson has been appointed as the new optometrist and Brodie Dukes will be undergoing her traineeship at the business.
"I am delighted that Eyewear Specs has grown enough to expand the business," said Fiona Hayward, Owner and Manager of Eyewear Specs. "I am so happy to be working with Brodie and Lauren and look forward to the future of Eyewear Specs."
Eyewear Specs opened its doors at 95 Rankin Street in Forbes in February 2016 and has been growing from strength to strength. The business has been so successful that they have had to expand by
employing more staff.
"I grew up in Molong and went to Queensland for six years to study. After graduating last year, I decided to come back to the country to work," said newly appointed optometrist Lauren.
"I was born and bred in Forbes and have just recently finished school," said Brodie. "Fiona offered me this amazing opportunity for a traineeship here. I've really enjoyed it so far!" Brodie's studies will commence once schools reopen.
To have your eyes tested or to find a pair of glasses to suit your individual financial budget visit Eyewear Specs today!