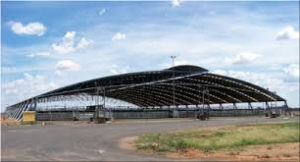 Work has begun at the Forbes Central West Livestock Exchange (CWLE) to expand on the existing cattle selling complex.
The estimated $3.4m expansion consists of improvements to truck parking areas, electrical works to increase lighting and security CCTV, expansion of the current covered yard area and installation of additional state of the art cattle yards. This will lift yarding from 1,800 to 2,600 head of cattle per week, an increase of 41,600 per annum to a total of 105,000 head of cattle per year.
"The added advantage of the additional delivery pens will facilitate more efficient turnaround time for cattle, spending less time in the selling centre. This will have a positive impact on animal welfare and transport operations," said Forbes Mayor Phyllis Miller.
"The project will drive economic growth and productivity into the local community, creating jobs and new opportunities for Forbes," she explained.
This expansion phase will greatly enhance the efficiency of operations and animal welfare standards to industry best practice levels. The high profile facility has however been the subject of recent controversy with Forbes Shire Council being served with an improvement notice this year by the RMS.
This is as a result of 57 breaches of Chain of Responsibility legislation by livestock transport operators leaving the saleyards.
Forbes Shire Council General Manager, Steve Loane states that Council is not the loading manager and merely provides the facility.
"It's just callous to whack the livestock industry with this now," he said. "The weighbridge would need to be remotely operated because trucks come and go at all hours.
The weighbridge would have to be capable of taking photos of the back, front and sides of a truck and identifying the truck driver. If  a truck is overloaded, there would need to be extra yards to hold offloaded animals, another expense the Council doesn't have reserves for," he said.
To further press Council's case, the CWLE hosted on Tuesday executives from the National Heavy Vehicle Regulator and administrators of the Chain of Responsibility legislation, including CEO, Sal Petroccitto.
The hosting was done during an active sale at the CWLE to better develop their understanding of the complexity of the issue faced by saleyard owners.