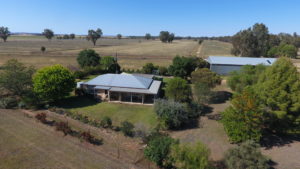 A 113.48ha (280 acre*) irrigation property with a 500ml water entitlement and only 10km* from Forbes is a pretty special find these days. It could be yours to move in on 25th January 2018. "Rodwell" will be auctioned on 14th December unless it is sold prior.
The home has been sited on this property with great care. From the dining room table you look out over the majority of the farm. The house is oriented with a north-easterly aspect to capture the best winter sunshine and relief from the summer heat.
There is no shortage of water to look after the garden and its trees as there is a domestic bore at the house. In addition to the bore there are several rainwater tanks.
Shelter for livestock is provided by a centrally located stand of pine trees accessible by 4 of the 9 main paddocks. The other paddocks have established tree plantings.