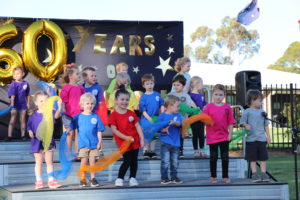 Much To Celebrate At Forbes Preschool
The 60 year celebrations continue through the year at Forbes Preschool. Last Thursday saw 1,000 family members and friends at Nelson Park enjoying some spectacular singing and dancing. Proceeds of the day's sausage sizzle were donated to the Can Assist Dancing With the Stars fundraiser, which saw the preschool secretary, Lisa Jarick and committee member, Darren Keane bust a move! The preschool are proud to be able to give back to our community that has given so much to us over the years. Visit www.forbespreschool.com to put your child's name on the waiting list.
We'd Rather Be About It, Than Talk About It
Forbes High School operates as a community of people invested in the future. But don't take our word for it, the proof is in the way students access opportunities for lifelong success and is indicated by Sydney University's preference to send practice teachers here for internships. Sydney knows this is a school where teachers teach and learners learn; Forbes High School recognises the potential of education to enable, expand and enrich the lives of young learners inside and outside the classroom. Forbes High School is leading the way in using technology to enrich learning with a future-focussed approach that enables students' voice and choice. Our students are encouraged to grow as creative and critical thinkers. Forbes High School is currently taking enrolments for all years. Enrol now!
Quality Care And Education
Bright Beginnings Early Learning Centre is a locally owned early education and care service. We concentrate on offering high quality care and education to children aged six weeks to six years. Our highly motivated and experienced team strive to provide the best possible experience for every child and family and take a multi faceted approach to learning across all age groups. Our preschool program is exceptional and is designed in close conjunction with local primary schools and support services to ensure that our preschool graduates are ready for 'big school', and beyond. We are currently taking enrolments for 2019 and invite you to come up for a tour of our beautiful service. For more information, please call Kym on 6851 4597 or email director@brightbeginnings.net.au.
Stimulating Learning
Forbes Public School students learn in a stimulating and challenging environment with a 21st century approach to schooling. Students are supported as individuals ensuring all children reach their full potential as we develop creative, confident and informed future leaders of the community.
Strong academic, sporting, cultural and creative arts programs, highly dedicated expert staff and wonderful families offer you and your child/children a school community that has the students at the heart. Forbes Public School enables students to become the best they can be and prepares them with a holistic view to education. We are currently taking enrolments for 2019, so please make the most of the opportunity and contact the office for a meeting to discuss the future for your child in this dynamic setting.
Quality Programs, Quality People
Forbes North Public School focuses on continual improvement for the school as a whole and for each and every individual student.
The school's mission statement, "learning for life through quality teaching in a safe and caring environment" is supported by the simple mantra of being better today than we were yesterday. The individual learning needs of every child are identified and the most effective learning opportunities to address these needs are applied each day. As well as outstanding teachers the students are supported by a team of Learning Support Officers, specialist Learning Support Teachers, an Aboriginal Education Officer and a Speech Therapist. Two Instructional Leaders work with students and also identify the best professional learning for staff to address their students' needs.