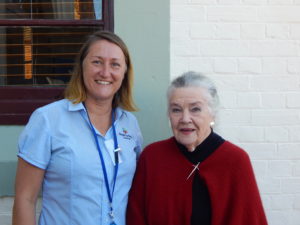 Elaine Imrie has lived in Forbes for all her lively 90 years. To mark Heritage Month, she was invited to share some of her memories at Neighbhourhood Central's social morning tea on Tuesday.
"I know many of you will have the same memories as I have about living in Forbes," she said, standing with the aid of her black cane, and joking that she would stand as long as she didn't fall over.
She began her talk with her memory of the day that peace was declared at the end of World War II, when she was 17 and working in the local solicitor's office.
"I was sitting in there typing away, and all of a sudden this wild-eyed man burst through the front door and yelled at me and said: 'The war's over! The war's over! Peace is here.'"
Elaine described a feeling of shock, and heading out into the street with her boss to see "perfect strangers hugging and kissing one another".
As she spoke, it was as if the audience of around 30 people could hear the church bells ringing, and see the man in an old car dragging a rusty iron tank up and down Lachlan Street just to make a noise.
Laughter filled the room when Elaine reflected on having a bucket of water emp- tied on her head as she stepped beneath the balcony of the old Flannery's Hotel. She didn't care, she said, "because the war was over".
But she admitted to feeling uncertain because she couldn't remember what peace was like.
Elaine captivated the group as she then backtracked to describe what it was like to live in Forbes during the war. She shared her experiences of supporting the troops, food rationing, entertainment and "making do".
She described how the troop trains would move slowly through the station, and how she and other young women would hand out cigarettes, mittens, gloves and other "comforts" to the soldiers as they passed.
When it came to food rations, Elaine talked about how she managed her share of butter. She would divide a half-pound ra- tion into seven pieces so that she would have butter for every day of the week, while her brother would finish his in two days.
She recalled her mother taking down dining room curtains to make a dirndl skirt for Elaine to wear to her first job.
Before she finished, Elaine had the group laughing again as she described almost knocking her brother out with a golf club one night as she walked home from music lessons.
Applause and questions made it clear that Elaine's rich storytelling was a treat for everyone.
The Forbes Neighbourhood Central social morning teas provide a great opportu- nity for clients of Neighbourhood Central and HACC to enjoy each other's company, listen to a guest speaker, or enjoy some entertainment. They take place on the third Tuesday of every month.
By Rochelle Bright