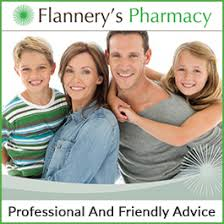 Did you know that 90 percent of ageing and wrinkles are caused by sun damage? Sun exposure causes most of the skin changes that we think of as a normal part of ageing.
Over time, the sun's ultraviolet (UV) light damages the fibres in the skin called elastin. When these fibres break down, the skin begins to sag, stretch and lose its ability to go back into place after stretching.
Australia is the skin cancer capital of the world. More than 11,500 Australian men and women are diagnosed with a melanoma each year, and an estimated 434,000 people are treated for one or more non-melanomaskin cancers. Skin cancer accounts for over 80 percent of all new cases of cancer diagnosed in Australia each year.
If you'd like to know about skin damage to your complexion (face), why not book an appointment at Flannery's Pharmacy Sun Awareness Clinic. The clinic nurse will conduct a VISIA Complexion Analysis using specialised UV light technology to identify the effects of sun exposure on the face. You will also receive a personalised skin analysis print out.
Our clinic nurse will discuss your analysis and make specific recommendations to help you manage and protect your skin to achieve your best skin possible.
The Sun Awareness Clinic is being held on Wednesday, 5th December and appointments are available between 10am and 3pm.
Talk to our friendly staff today to book an appointment or call Flannery's Pharmacy on 6852 1111.