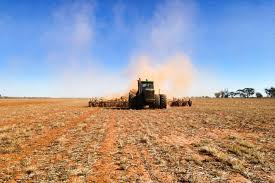 Tough is the word Lake Cargelligo grain grower Andrew McFadyen is using to describe the current seasonal conditions across much of New South Wales' grain growing regions. He said reasonable rain was needed in the next three to four weeks to give winter crops a fighting chance after a dry summer and autumn.
"Grain growers are a resilient group, but the current situation is testing everyone in the agricultural sector, including regional communities," Mr McFadyen said.
"In seasons like this, it is really important to remember we are all in this together and it's always rained. It will turn around this time too."
"In the Lake Cargelligo region, the past 18 months have been incredibly dry, and we are now at a point where we need rain in the next three to four weeks to give winter crops a chance, or in some cases to get winter crops in the ground."
At Forbes, GRDC Northern Panel member Tony Hamilton said the season had been "very patchy" with reduced canola plantings, very little chickpea planted and some irrigation water available to carry over. "Irrigators are definitely disillusioned. But the planting decision window could extend from mid-June to July if the price outlook is good and we get some rain," Mr Hamilton said.
At Wyalong, grower and GRDC Northern Panel member Roger Bolte said it was a similar situation despite 70mm in late March giving growers hope for a great autumn start to the season.
"We had another 50mm in early May and that helped set up some growers across this area, but the conditions vary significantly through this region," he said.
"Wheat and barley are the main crops this season at the expense of canola and legumes. Canola could be back as much as 90% this year across this district. A small area of chickpeas and lupins will really round out what's in the ground here."