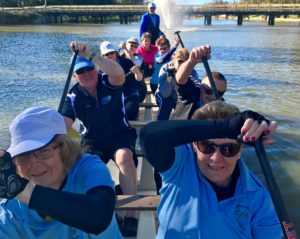 Dragon Boating season officially kicks off this Sunday, but a few eager beavers just couldn't wait another week. The cobwebs were dusted, the trolley put in gear and the boat wheeled down to the water by eleven excited paddlers for the first time since Lake Forbes was graced with its newest fountain. A few squeals were heard across the water as the Sweep teasingly steered a little close to the spray on such a cold wintry morning.
To start the new season a change of brigade has transpired to carry on the great work of the previous committee. The club has appreciated the commitment of Robyn and Neil Stephens and Warren Edwards. The position of new president was a very difficult choice with two outstanding contenders. Votes were fifty-fifty for Bill Thomas and Chris Sweeney, both dedicated and visionary men. Coming down to the wire, the final decision had to be drawn from a hat, with Bill's name selected.
Chris Sweeney, with natural good grace, took on the demanding role of secretary. Michael Green continues on as treasurer, Kristine Dobell as registrar and Ian Prince remains equipment officer. Other new board members, Liz Mitchell and Beth Thomas took on the roles of grants officer and publicity officer respectively. The club will certainly move ahead and continue to develop under such a devoted team of good workers.
All that remained after the board selections was to appoint the new season's head and assistant coaches. As Carmen Stephens has carried out the coach's position with such aplomb, it was unanimously decided by the new board that they would continue on with Carmen as head coach. Taking on the role of assistant coach is Warren Edwards, a dedicated member who is passionate about our club, and so is sure to do a fantastic job. Congratulations to this excellent team.
So now that everything is in place, bring on the 2017-18 season! Of course, new paddlers are always most welcome.
You've never heard of dragon boating? It is a sport that originated in China over 2,000 years ago. Picture long, narrow boats, around 20 paddlers in two adjacent rows in each boat, and someone else in each boat beating the stroke time with a drum. Picture frantic paddling and fun. That's it.
So, if you've been thinking about having a go please come along! Contact Bill or Beth on 0418 253 045 or Chris Sweeney on 0414 762 775.
By Beth Thomas