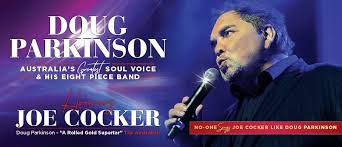 Australia's greatest soul voice Doug Parkinson presents the ultimate tribute to Joe Cocker on Saturday 22nd June at the Dubbo Regional Theatre.
A night of soul and rock classics, the electric current runs high, generated from the very talented 8 piece band and of course the powerful and unique voice of Doug Parkinson.
Joe Cocker was an irresistible force that combined a love of American soul music with standout interpretations and depth of feeling, terms often used to describe the soulful smoky voice of
Australian singing legend Doug Parkinson. Cocker is most famous for what he did  other people's songs Hitchcock Railway, Delta Lady, You Can Leave Your Hat On, She Came in through the Bathroom Window, The Letter, You Are So Beautiful, Up Where We Belong and Cry Me A River.
Just a few of the songs Doug Parkinson has included in this new show that rolls along and leaves the audience spellbound.
Cocker chose well. He had hit records with songs from the Beatles, Ray Charles, Billy Preston, the Animals and Traffic among others – and then he magically reworked them.
Add in his famous gritty vocals and Cocker's interpretations often surpassed the celebrated originals.
There couldn't be a more appropriate singer in Australia to showcase the ultimate tribute to Joe Cocker than the gravelly soulful voice of Australian singing legend Doug Parkinson, often described as exciting and impassioned and also a master of interpreting others' songs.
Parkinson is not only an entertainer but an amazing vocalist. One example that brings the house down night after night is the huge hit for Doug, and probably the best version to date; the Beatles' Dear Prudence.