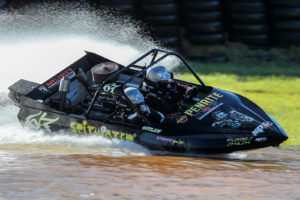 Easter was kind to the new Spitwater Team Outlaw in the third round of the Australian V8 Superboats championship under lights in Griffith with two drivers completing the hotly contested 400-class podium in what was a near perfect weekend for the team.
Joining team-leader Justin Roylance as the B driver in the #67 machine was for- mer 350-Class champion Daniel James. The two pushing each other all day as they worked their way up the leaderboard to be in the battle for a podium finish thanks to two impressive drives through the first two finals.
Justin was the early pace-setter for the team, while Daniel carefully worked his way forward through every session. The pair worked seamlessly through each run to improve the performance of the new JRE race engines built machine to put themselves on the podium ahead of the fi- nal run of the night.
In the end caution saw them run second and third, while Griffith rookie Paul Kelly from Queensland threw caution to the wind to take victory on what is widely regarded as the most unforgiving and treacherous circuit in the country.
"I couldn't be more pleased with the re- sult," said a beaming Justin Roylance. "Our goal this weekend was to learn and keep the boat straight and we managed that perfectly. Personally I wanted to be able to learn from Daniel – who is arguably one of the best drivers in the country – and work to improve the performance of the boat. This is only our second event with the new package, and the second event at a venue
where caution plays a big part in your ap- proach because there's little margin for er- ror at Griffith. So in my mind we were big winners this weekend, and having Daniel join me on the podium was the icing on the cake!"
For Daniel, who has only made cameo appearances in the championship over recent seasons, a podium finish was a perfect end to what had been a faultless weekend. "It was great to be back behind the wheel again. I really enjoyed the expe- rience, and to make the podium alongside Justin was a great result," Daniel said.
"It was nice too to get a feel for the boat and help Justin improve the performance. Data is great, but there's no better way to get an understanding for what's going on than during the racing itself. We learnt an awful lot and can go away and make a few more tweaks to the setup to extract even more performance."
The next round at the end of May is at Cabarita on the Tweed Coast to a cir- cuit they know well, according to Justin. "That's great because Keith was new – as was the boat – and Griffith was a circuit that we run on just once a year, so to go back to a venue where we compete regu- larly and have a good understanding, we feel confident we'll be able to keep this competitive run alive!"
For more information on the 2017 Australian V8 Superboat Championships, visit www.v8superboats.com.au or www.face- book.com/V8Superboats
By Justin Roylance