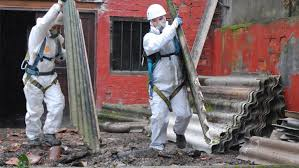 November is Asbestos Awareness Month to educate the public about the dangers of asbestos as Australia has one of the highest rates of asbestos-related diseases in the world.
Asbestos-related diseases continue to increase as a direct result of exposure to asbestos fibres during home renovations and maintenance.
Many people wrongly believe that only fibro homes contain asbestos, but asbestos products can most likely be found in any Australian home built or renovated before 1987, whether it's brick, weatherboard, fibro or clad homes.
It's vital that Australians take the warnings seriously, stop playing 'renovation roulette' and protect themselves and their families from exposure to asbestos fibres during renovations and maintenance.
If you suspect you have asbestos in your home: Don't cut it! Don't drill it! Don't drop it! Don't sand it! Don't saw it! Don't scrape it! Don't scrub it! Don't dismantle it! Don't tip it! Don't waterblast it! Don't demolish it! And whatever you do… Don't dump it!
Call Central West Asbestos Removal on 0429 661 610 for all your asbestos removal needs.