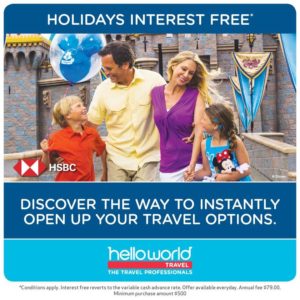 From New York to Los Angeles, experience some of the most exciting cities in the world. The USA offers breathtaking scenery, iconic landmarks, national parks, theme parks, history, art and culture.
Visit the Statue of Liberty and the Empire State Building in New York or the Golden Gate Bridge in San Francisco. Be star struck on the famous Hollywood Walk of Fame.
Why not take the kids to Disneyland or take a road trip on Route 66 or take a helicopter ride to the bottom of the Grand Canyon? We have something to suit all members of the family.
We are excited to partner with HSBC to bring you closer to that dream holiday.
For a holiday you will remember and want to tell everyone about, chat with helloworld Travel Forbes today on (02) 6852 2344 or call in store.