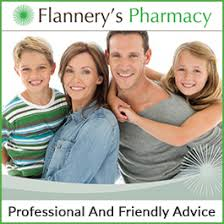 Flannery's and Life Pharmacies are focussing on diabetes wellness during February and March. "If you are living with diabetes, let's talk about how your medicines and blood glucose monitoring are working for you and fitting in with your daily routine," said Flannery's pharmacist, Tracey Edwards.
"Your pharmacist can sit down for a one-on-one consultation with you to discuss your medicines," said Tracey. "This process is called a diabetes medication review and helps the patient get a clearer understanding of their medicines and provides an opportunity to discuss any issues or concerns they may have regarding their medications."
If you would like a diabetes medication review you can come into either pharmacy and speak to the pharmacist.
It also helps to have a good system in place that works for you when it comes to monitoring your blood glucose levels. You can talk to the pharmacists at Life Pharmacy and Flannery's Pharmacy about your blood glucose meter, monitoring, strips or lancets.
Flannery's Pharmacy will be hosting a Diabetes Awareness Day with free blood glucose testing on Thursday, 28th February.
"If you'd like to find out more about diabetes feel free to call in on the day and speak to one of our pharmacists or registered nurse," said Tracey.