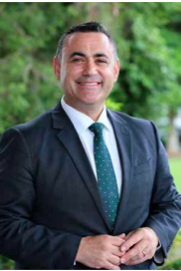 The Deputy Premier and Minister for Regional NSW, Skills and Small Business John Barilaro MP will visit Forbes this Saturday as part of an electorate-wide visit to the Orange Electorate.
Mr Barilaro will be accompanied by the Parliamentary Secretary for Western NSW, Rick Colless MLC and will be available to meet with members of the Forbes busi- ness community, dryland farmers, irriga- tors, livestock producers and members of the community at the Vandenberg Hotel, 7 Court Street Forbes at 12.30 pm on Saturday 15th July.
"It is important that all sections of the community fully understand the direction the new leadership of the government is taking NSW", said Mr Colless.
"There are some exciting new funding programs bringing serious money to regional NSW which I am sure the Deputy Premier will bring people up to speed with on Saturday."
"John Barilaro is absolutely committed to improving the infrastructure and commu- nity facilities throughout regional NSW and this will be an opportunity for those community groups to crystallise their ideas for moving their communities forward", Mr Colless said.
Lunch will be provided for $20 per head.
To assist with catering please RSVP to Bruce Adams (0429 151 280), Mick Molloy (0412 985 720) or Jeffory Herdegen, Orange Electoral Council Chairman (0428 689 310) by Thursday 13 July.