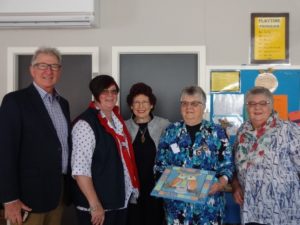 The Parkes/Forbes Cake Decorators Guild (CDG) hosted a State Rostered Day at the Parkes Baptist Church recently, along with demonstrators from the CDG of NSW State Body.
Attendees travelled from Newcastle, Wagga Wagga, Bathurst, Cabonne, Orange, Dubbo, Peak Hill, Forbes, Sydney, Camden and Mudgee. Parkes Shire councillors Patricia Smith and Bill Jayet were amongst those attending the morning session.
Guests were welcomed by CDG president, Jeanette McGregor, where after groups were formed for demonstrations by expert cake decorators.
The first demonstration was presented by Elizabeth Ivory, which was a cake topper made out of modelling paste to the exact proportions of the flower cosmos in variouscolours.
The second demonstration was presented by Cathy Rice who taught attendees how to create a zygotes cactus. Cathy was encouraging attempts at such a project.
The Third Demonstration was conducted by Connie McCartney who showed guests how to decorate elaborate chocolate cupcakes in a cool cat design with the latest chocolate modelling paste.
Renee Mutton intrigued with her Sassie Giraffe. A Giraffe that could be used as a child's birthday cake and puppet. Renee made a story from her creations which were built upon with each demonstration group starting with a page boy giraffe, a bridesmaid giraffe, a best man giraffe, a groom and lastly the bridal giraffe made out of fondant.
The Final demonstration was a combined demonstration from the members of the State body of NSW CDG. A demonstration of a checkerboard cake by the State President, Helen Robinson, as well as Elizabeth Ivory and Narelle Wardle. The checkerboard cake consisted of two ordinary cream and jam sponges combined with two mud cakes.
The event was made possible (sponsored) through a Cultural Grant from the Parkes Shire and the Northparkes Mines Community Grant awarded to CDG.