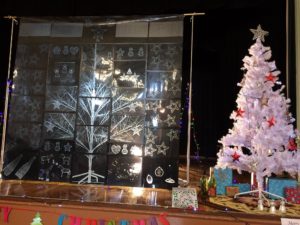 The unrelenting weather could not deter eager Christmas tree festival enthusiasts from attending the splendorous event.
The 6th Rotary Ipomoea Christmas tree Festival was held in the Forbes Town Hall last weekend while heavy rain and storms raged on outside.
The spectacular sight of colourful and innovative Christmas trees that festival goers were met with upon entering the display venue did not disappoint and the organisers are still reeling from this year's amazing success.
"Our opening on Friday evening was unlike any we have experienced before. What a fantastic night! Then Saturday and Sunday came and also family after family! Huge numbers went through the doors. This was definitely our best response ever! My face is still sore from all the smiling, laughing and talking," said Forbes Rotary Ipomoea Publicity Officer, Sue-Anne Nixon.
Last year Rotary members were proud to display 91 marvellously imaginative entries.
This year, they were hoping to achieve the 100 entries mark. However, all expectations were exceeded and now the organisers can boast with a spectacular 121 entries of all shapes and sizes with tinsel and baubles!
A tree displayed on stage and also making it clear that there are no rules when decorating your tree was a white tree with its xray next to it. This creative idea came from none other but the ladies of Forbes Medical Imaging, who were one of the deserving winners.
Other worthy winners were the Jemalong Retirement Village and Bright Beginnings
Early Learning Centre.
By Gizell van Wyk