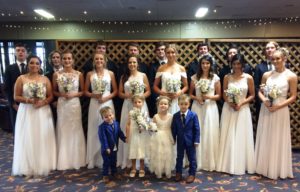 It was a glittering occasion on Saturday, 24th March when eight dazzling young women from Forbes High School made their debut at a charity debutante ball held at the Forbes Inn.
The debutantes and their equally handsome partners were presented to Mel Dunn, representative from the Ronald McDonald House in Orange, which was their chosen charity.
The group consisted of Jessie Rix, Angelica Dietrich, Hannah Stewart, Cassey Dukes, Kara Bray, Iesha Sinclair, Sophie Cowan and Libby Mylechrane.
For the past six months the group of young omen worked tirelessly raising funds through raffles, community barbeques and very entertaining trivia night.
They managed to raise in excess of $4,000 or the house, which provides homely affordable accommodation to local families needing to utilise the facilities of the Orange Health Service.
School Administrative Manager, Anita Morrison commended them for their efforts. It was a pleasure to work with this group of young people who were very proactive with heir fundraising efforts and amazing on the night," she said.
The more than 220 guests were in awe at the group's dance performance, with the group lift being a real crowd pleaser.
The dance was choreographed by Rachel Wythes and Kate Ralph.
The cute factor was added by their adorable flower girls Lucy Welsh and Ivy Welsh and their page boys Ash Sinclair and Hugo Holmes.