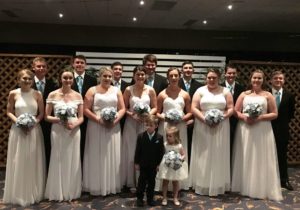 After months of planning, fundraising and dance lessons seven gorgeous young ladies and their handsome partners danced their way into the hearts of almost 200 guests. The occasion was held on Saturday, 5th May when the young women made their debut at a charity debutante ball.
The group were presented to John Schrader, a representative from their chosen charity Forbes CanAssist, and consisted of Savannah- Lee Bevan, Jourdain Girot-Serplet, Paige Thomas, Ethan Markwort, Samantha Thornton, Brandon Boland, Fiona Howarth, Konnor Ryan, Gabrielle Boland, Jacob Howarth, Brodie Dukes, Toby Hurford, Jade Carpenter and Kristian Markwort.
Anna and Austin Hubbard and Marebelle and Maxi Baxter, led the nervous duos onto the dance floor before they performed their feature dance, which was choreographed by Kate Ralph. The young ladies looked spectacular in their gowns and the young gents wore smart black suits and light blue accessories.
The determined efforts of each and every one of the debutantes and their partners, from cooking barbeques to selling raffle tickets, were justified with a profit of $1,800 being raised from the event. This will directly benefit local cancer patients and their families.
John Schrader was grateful for the support and the efforts of the group. He explained that Forbes CanAssist provides in excess of $8,000 per month financial support to patients.
Raffles were also drawn on the night. The firewood, donated by the Carpenter family, was won by Julie Wallace. Kate Ralph took home the homewares hamper, donated by Spotlight. Kim Dean scored the kitchenwares hamper, also donated by Spotlight, and Marion Crowe was delighted with her win of a gift voucher to the Sweet Three Vintage Van.
Event coordinator, Anita Morrison said that she could not have been prouder of these young people and commended their families on the night and for the positive influence they have had on them all.