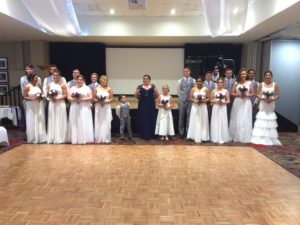 Eight stunning young ladies and their handsome partners took to the dance floor in April to raise valuable funds for Forbes CanAssist.
They raised over $1,300 dollars running various events. John Schrader, President of CanAssist said the funds would go a long way in assisting local cancer patients and their families. Rachel Wythes choreographed the group's dance and their performance delighted family and friends.
Ruby Markwort and Jett Peckham were the perfect flower girl and page boy as they led Kaitlyn Wright and Mitchell Ashcroft, Lillyann Mason-Spice and Kaidyn Haines, Kiah Peckham and Bradley Clifton, Maggie Wallace and Ethan Stewart, Janssen Mores and Kristian Markwort, Montana Palazzi and Ethan Markwort, Shanika Harpur and Mark Simmonds and Jada and Zeke Hartwig for the presentation ceremony.