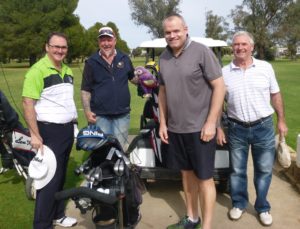 The Daine Doolin Memorial 4-Ball Best Ball Stableford Medley, sponsored by Bob Doolin, took place last Saturday and was supported by 66 players. There were six mixed teams in the field.
Winning team John Zannes and Dave Rhodes combined well with equal shares of the holes and both birdies and bogeys on the card to score 49 points. Runners-up on 48 points were Carolyn and Brianna Duncan.
The ball sweep went to 46 points, going to: 49 – D Rhodes, J Zannes; 48 – B and C Duncan; 47 – D McAulliffe, B Doyle; 46 – T Callaghan, D Bayley, R Besgrove, B Drabsch, A Grierson, N Duncan; D Sly, G Drane and S Grierson, L Grierson. The NTP's went to: 9th – P Cowhan; 18th – P Grayson.
Last Sunday was a Stableford Medley. Ray Taylor won with 38 points from runner-up Peter Grayson on 37 points. The ball sweep went to 36 points on count back, with Steve Betland being the recipient. The NTP's went to: 9th – R Besgrove; 18th – S Betland.
Monday was another Stableford Medley. The winner was Dan Bayley with 41 points, and on count back from Laurie O'Connor. Dan's back-9 was a beauty with eight 4's and one '3', recording 22 points.
The ball sweep went to 39 points, going to Dan and Laurie, plus Pete Tilden (40 – and no 2's for him) and T Callaghan (39). The NTP's went to: 9th – R Borger; 18th – R Besgrove.
The Monthly Medal sponsored by Forbes Concrete will be on Saturday, 7th October and a Stableford Medley on Sunday, 8th October.
The Summer Sixes comp commences on Monday 9th October. Contact Simon on 6851 1554 for further information.
By Short Putt