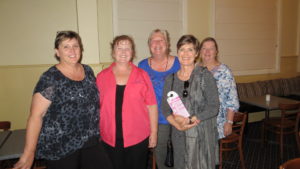 The Forbes Day Branch of the CWA recently hosted the Oxley Group meeting with members coming from seven branches. Forbes participated in the group handicraft and cooking day at Bogan Gate and was placed third place overall. Cherylin Cole won top marks for her braided rug and goes through to the zone level. Also selected was a felted hat and a pure wool crochet rug made by Elaine Bright. Margaret
Adams won first prize with her pickles.
The Country Women's Association (CWA) is the largest women's organisation in Australia and aims to improve conditions for country women and children by lobbying for change, helping the local community, creating a network of support and meetings. Prospective members can choose between joining either of the Day or Evening branches in Forbes.
If you would like to be part of the Evening Branch CWA contact Michelle Mahlo on 0416 023 7215 or Karen Wright on 0407 002 937.
For the Day branch contact Elaine Bright on 0402 025 888 or Robin Pols on 6852 1824 or just attend a meeting held on the first Friday of each month at 1:30pm at the CWA Hall in Lachlan Street.