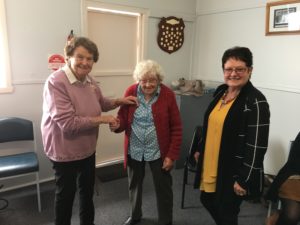 The Bogan Gate CWA recently held their International Day, with Poland being CWA's country of study for this year. International Officer, Heather Veal hosted a delicious Polish lunch for members and her guest speaker was Mick Harris from Parkes.
The highlight of the day and a very big surprise for one of the members, Esther Moore, was when she was presented with Life Membership by another Life Member, Ida McIntyre.
Bogan Gate CWA President, Marion McIntyre said: "Esther has been a loyal member of Bogan Gate since the transfer of her membership when the Yarrabandi branch closed. She consistently attends meetings even though age and distance can be tiring.
She is our quiet and reliable worker. Always willing to help where necessary, always assists with caterings and can usually be found with a tea-towel in her hands."
Esther first attended CWA as a child, accompanying her mother to meetings and joined as a full member at the age of 21.
She held the position of Yarrabandi treasurer for at least 21 years as well as being a vice-president and a councillor or delegate to group functions. She has also represented Bogan Gate as a councillor and delegate to group.