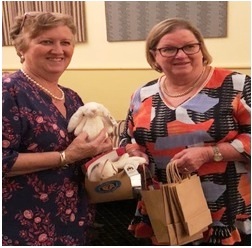 At the first meeting for 2019, the CWA Forbes Evening Branch reflected on our fundraising activities/ projects for 2018 and established new projects for 2019. We also welcomed new members to our group.
Activities our members were involved with in 2018 included updating the miscarriage packs for distribution at various locations in Forbes. These packs provide information and support materials for women who are grieving. We combined with the CWA Forbes Day Branch to provide afternoon tea and dinner for the drivers and their families of the "Great Southern WA Drive for Life" hay deliveries in October; supported other CWA projects including Riverside Disability, Care West Lodge, Oxley Junior Public Speaking and Group Education Projects and numerous other drought relief efforts in our local community.
In 2019 we will continue to support drought relief funding through distributing gift cards donated by Western Australian CWA branches as well as other drought relief activities in our community; offer financial support toward the Oxley Group projects as mentioned above and preparing and distributing miscarriage packs.
New projects and activities for this year include sponsorship for the local Miss Showgirl winner to help with the expenses in attending Zone finals and/or Royal Easter Show. We will also be supplying a variety of items for the Women's Refuge. Forbes Evening Branch CWA is one of the sponsors of the Grease & Oil Change program providing local farmers with much needed health and wellbeing information and support services.
Other fundraising activities will include the proceeds from the sale of the annual Farmer Down Under Calendar. You can find these informative calendars on sale in various local shops. We have other activities underway for fundraising but are yet to be finalised.
Teddies, bunnies and layettes knitted and crocheted by the HACC centre women's group were donated to our group and have been distributed to appropriate places like the maternity unit and Women's Refuge.
All members are looking forward to a rewarding and productive year. Anyone is welcome to attend our dinner meetings held at the Vandenberg Hotel from 6:30pm onwards every second Thursday of the month. Our next meeting is 11th April.
By Sue Cunningham