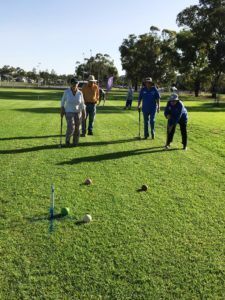 Week ending 16th February
One of the most exciting games of Tuesday morning was a singles match between Barry White and John Cole. Barry held on to the end and won 7 points to 6. One of the best games of doubles was between Kevin Rubie and Alec Todd with 7, defeating John Allegri and Evelyn Mahlo with 6.
The winners of three games on Tuesday were John Browne, Alec Todd, Mal Smith, Neville Spry and Bruce Field.
Saturday's Aussie croquet was a wonderful mild morning with a good turnout. The courts are showing the benefit of the rain we've had over the last few weeks. There were some really close games.
Kevin Rubie and Anne Stewart played the perfect game defeating Joan Littlejohn and John Allegri 14 to 13. Another very close game was between Merv Langfield and Geoff Cole who defeated John Allegri and Jill Rubie 14 to 13. There were only two winners of the three games. They were John Cole and Bill Scott.
All members of the club pass on their sincere condolences to our president Elvy Quirk, who lost her brother last week.
By Anne and Harley Stewart